Deck Builders & Construction New City, NY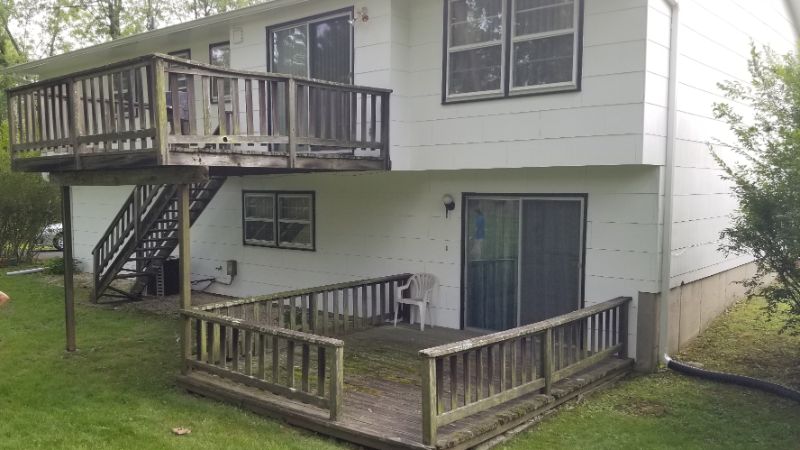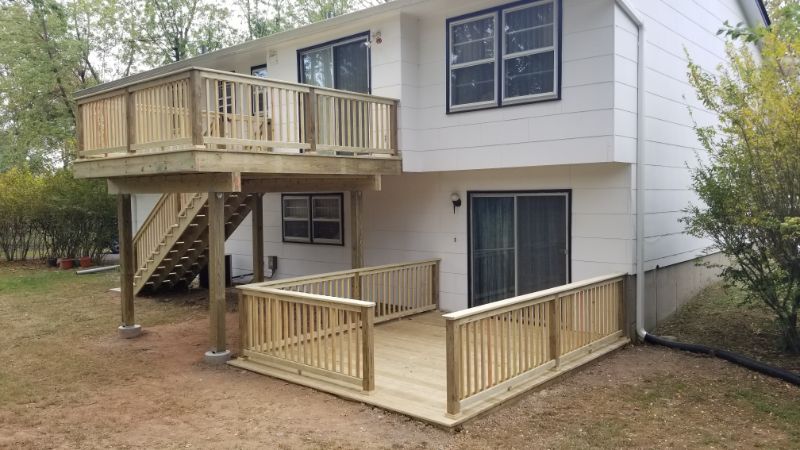 Custom Deck Builders Serving New City, NY
Are you searching for deck builders near me or deck builders in New City, NY?  What type of deck would you like built?  Are you thinking about building a custom wood deck or something out of very durable, low-maintenance composite materials?
Maybe you're looking to get more enjoyment out of your property during our beautiful New York summers?  Maybe you'd like a nice area for BBQ'ing or entertaining your friends and family?
A beautiful custom wood deck will improve the value of your home, increase your living space, and make your home a more enjoyable place to spend those hot summer days.
One Of The Top Rated Deck Builders In New City, NY
Artisan Exteriors Inc is a deck builder based in New City, NY and serving Rockland County and the surrounding area.  We are your premier deck builders in Rockland County.  Whether you want us to rebuild an existing deck or build something new and unique the small team of craftsman at Artisan Exteriors, Inc will be able to help you.
Wood Decks are an excellent way to keep a natural look and feel about your property.  Most decks today are built out of wood because it's affordable and easy for deck builders to work with.
The most affordable and commonly used type of wood for decking would be pressure treated decking materials.  However, wood can also be quite expensive if you're wanting to build your deck out of popular redwood, cedar or the even more expensive Ipe.  Natural decking materials however offer a certain richness, and feel that you can only get from using wood.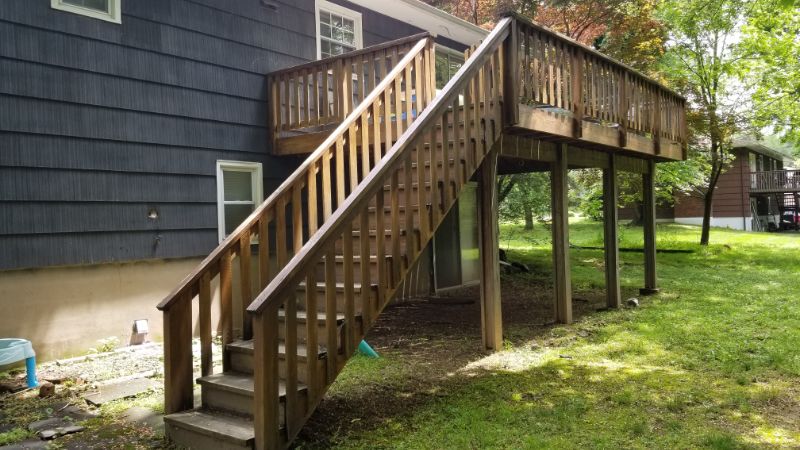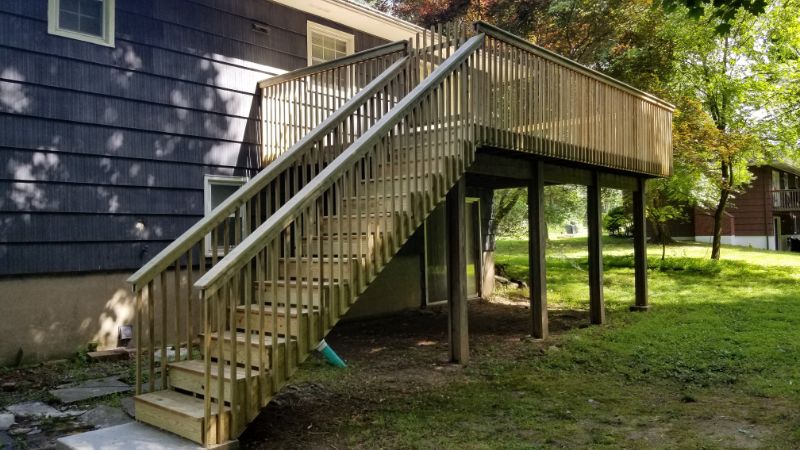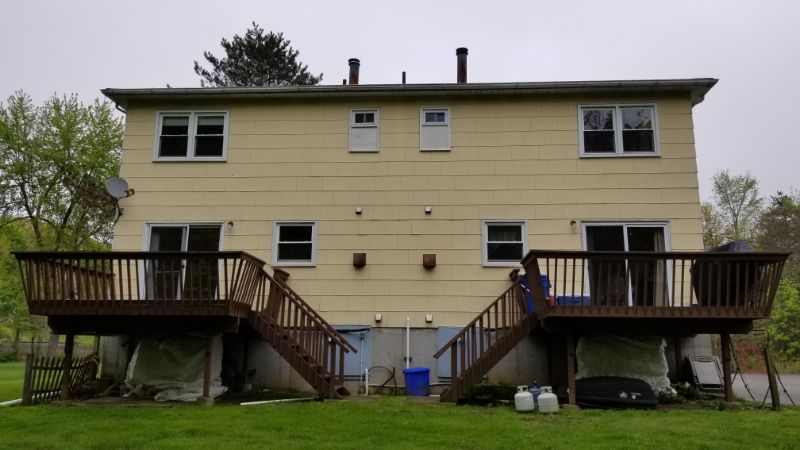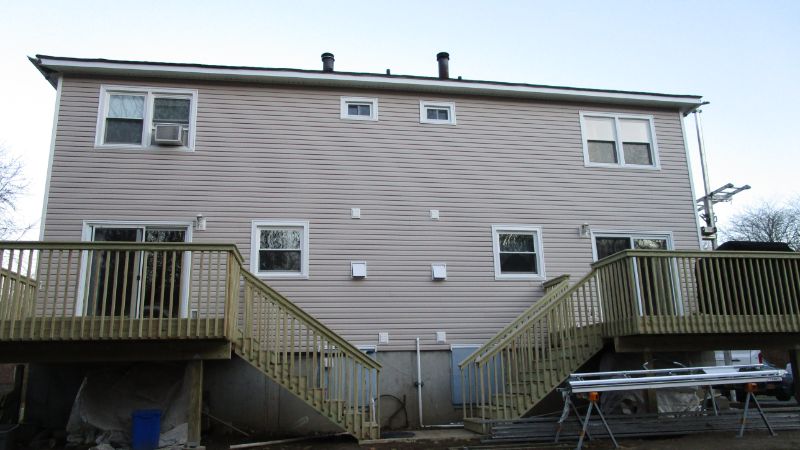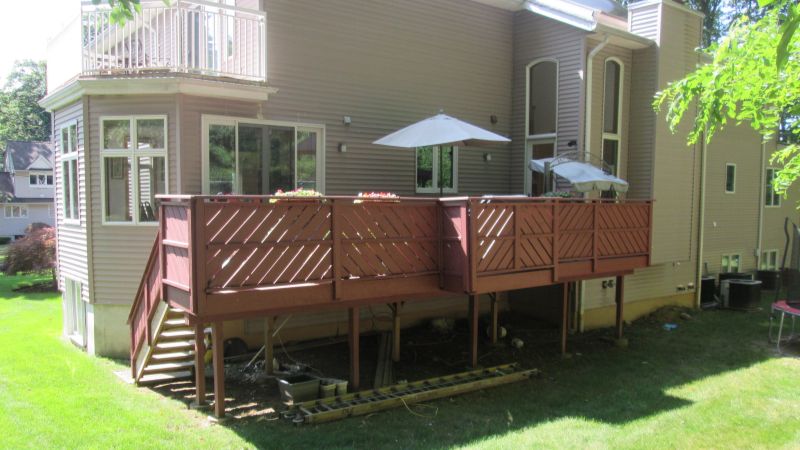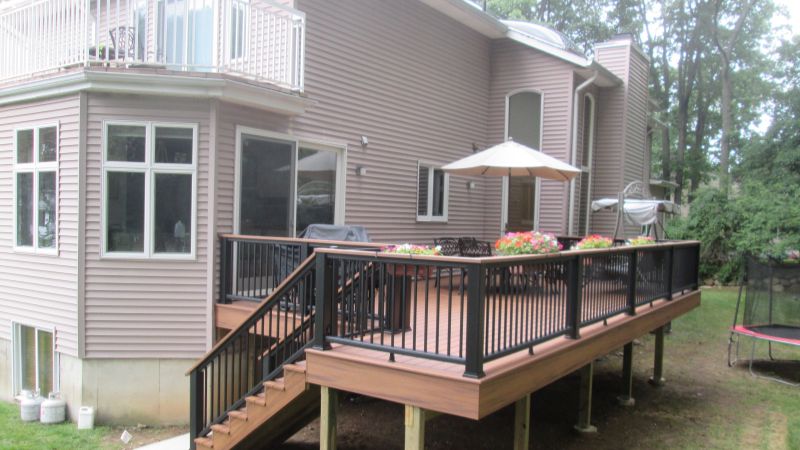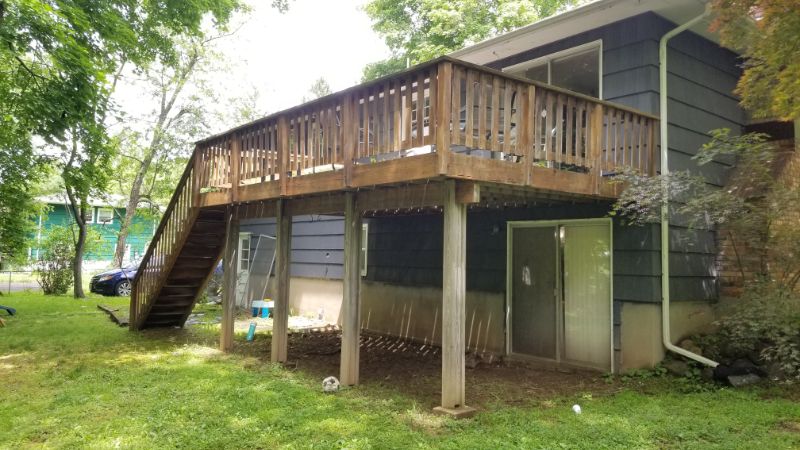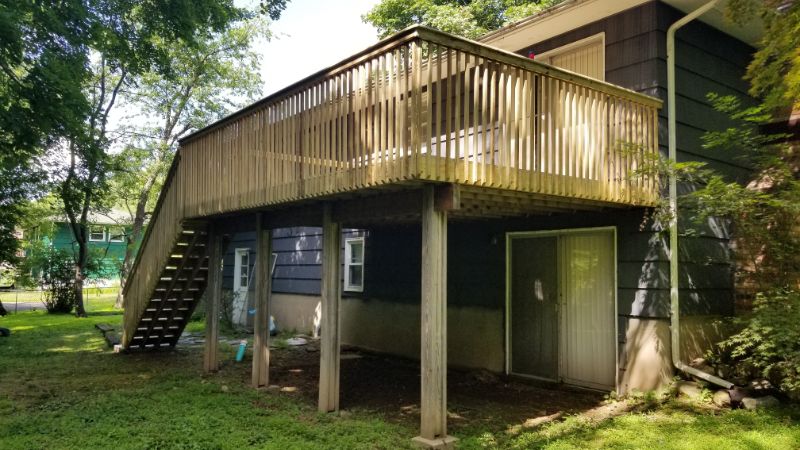 Materials We Use For Building Custom Decks
Pressure Treated Wood Decking
Western Red Cedar Decking
Trex Transcend Decking
As Expert Deck Builders These Are The Materials We Use
Pressure Treated Decking:  It's very resistant to rot and insects and it also withstands moisture very well, not to mention it's readily available which also makes it affordable.  Pressure treated wood doesn't necessarily need to be painted if you like the dark brown, or dark green color variations that it comes in.  Most pressure treated decking material is milled from southern yellow pine.  Artisan Exteriors Inc can build you a deck out of pressure treated lumber throughout the New York area.
Redwood & Cedar Decking: If budget isn't an issue and you want one of the more elegant looking materials for your deck then redwood or red cedar are great choices. Both of  these western softwoods are highly sought after for their deep rich colors and natural beauty. Both of these species actually contain tannins and oils that help them naturally resist rot, decay and wood boring insects without having to be treated with chemicals.  The crew at Artisan Exteriors Inc are the New York Cedar Decking experts!
Trex Transcend Composite Decking:  If you're looking for a sustainable, long-lasting, decking material with beautiful aesthetics, look no further than Trex Transcend composite decking.  Made from 95% post consumer plastic film and reclaimed wood it is a sustainable material backed with a rock-solid 25 year warranty.  Available in a variety of colors (shown below) it's an excellent choice for a new deck.  Composite materials are low-maintenance, requiring simple cleaning once or twice per year.  No repainting, no replacing rotten wood, no warping or twisting, if you're looking to have a beautiful deck built, this is the material you want.
Trex Transcend Color Options
Our Deck Construction Process
Initial consultation to view your project and the build site.
We'll answer any questions or provide suggestions where needed.
We can include custom deck design if needed.
Schedule your start date.
Our Deck Building Estimates Include:
Tear out or removal of old deck (if there is one)
Proper base and footings
Deck framing and construction
Decking material of your choice
High quality fasteners and hardware
Railings and stairs if/where required
Sealing deck if required (recommended for waterfront decks)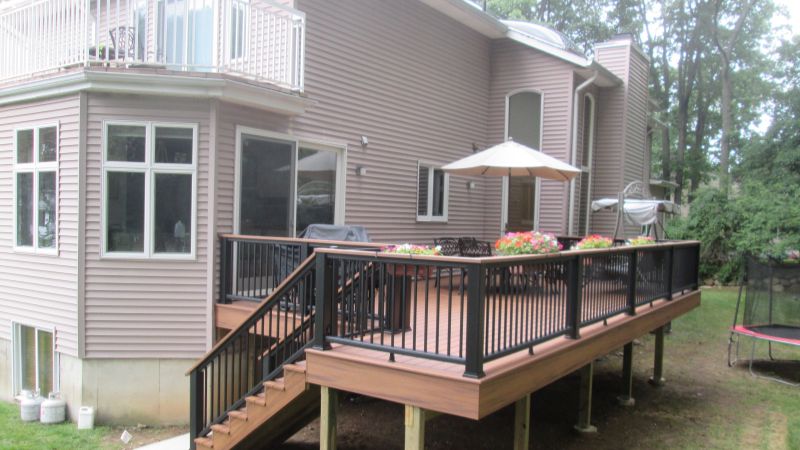 Why Choose Artisan Exteriors Inc As Your Deck Builders?
When you choose Artisan Exteriors Inc to build your deck you're partnering with a small team of dedicated craftsman carpenters.  With many years of combined experience you can be rest assured your deck will be built to the highest of standards.
We have a solid track record of happy and satisfied customers, many of them calling on us again and again for their carpentry needs and also referring us to their friends and family.  It's through the quality of our work and dedication to each and every customer that our business continues to grow.
We care about your deck project and we want to make sure we do the best job we possibly can.  We provide unbeatable value, we keep your property clean and uncluttered, our pricing is fair, and the quality of our finished decks is unmatched.
We realize that you've got many choices when it comes to custom deck builders in our New York service area. We want you to know we understand and appreciate the commitment you are about to make to your home and we take it very seriously. When you choose Artisan Exteriors Inc as your deck builder you're choosing a partner in making your home a better place. We guarantee it!
If you'd like to schedule an estimate or consultation for your deck project give us a call at (845) 350-2055 or fill out our online contact form and we'll get right back to you.