Vinyl Siding Installation New City, NY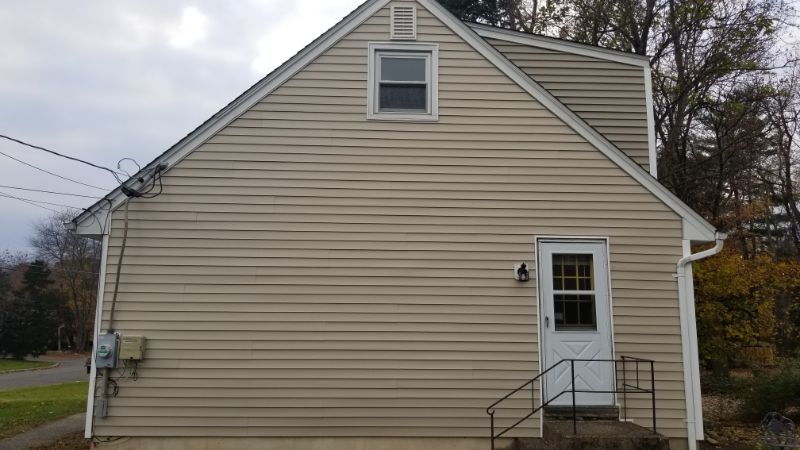 New Vinyl Siding is a great way to enhance the look of your New York home especially if you were planning to resell.  Vinyl siding installation is a fairly straight forward project but it must be done right if you want it to look great and last.
Wanting a nicer looking home isn't always the reason why homeowners choose to install vinyl siding.  In the areas we service throughout New York our winter weather systems can occasionally cause damage to siding and just the natural aging of the materials can eventually break it down and make it a candidate for replacement.
Artisan Exteriors Inc is a full service exterior home improvement company that specializes in vinyl siding installation.  Whether you need vinyl siding installation for a new home addition that has been built, or you a new construction project like a shop or a garage, or you need to replace your existing vinyl siding the team at Artisan Exteriors, Inc. can help.  With our 5 star rating on Google and Home Advisor you can trust our team for honest and fair pricing, quality products, and excellent workmanship.

Rating
Vinyl Siding Installation Service New City, New York
Vinyl siding is still one of the most popular choices for New York homeowners because of the low maintenance requirements (pressure wash 1 or 2 times per year) and vinyl siding comes in a huge variety of colors and styles to enhance the looks and value of your home.  Artisan Exteriors Inc sells and installs only Quality Vinyl Siding products so that your home is protected by the best vinyl siding material on the market and is supported with an outstanding warranty.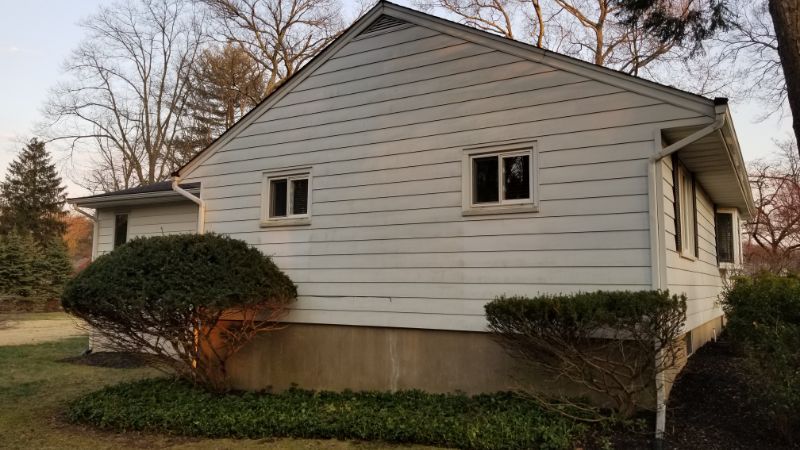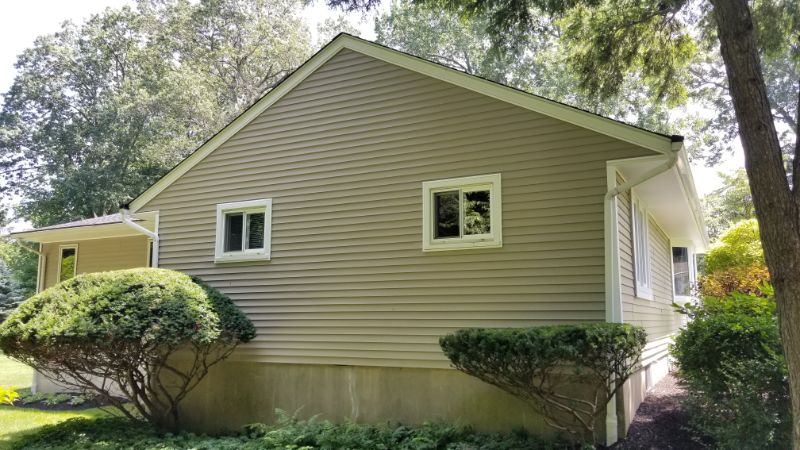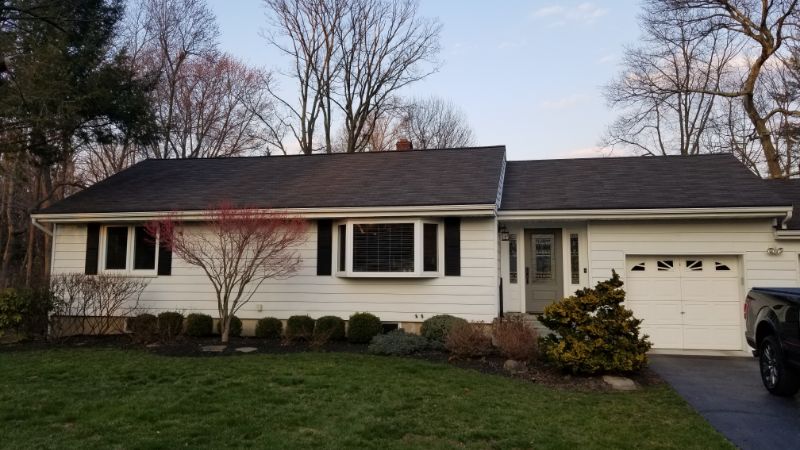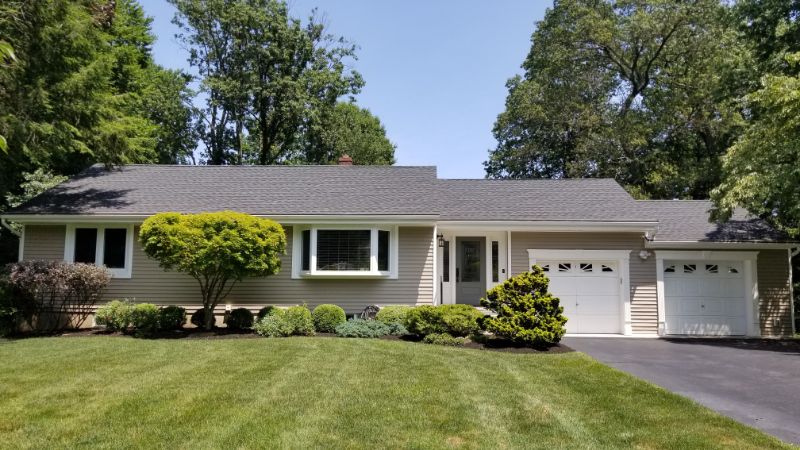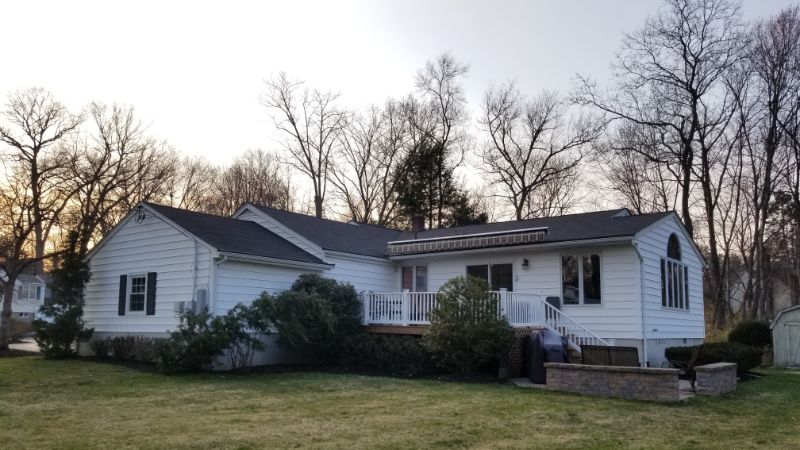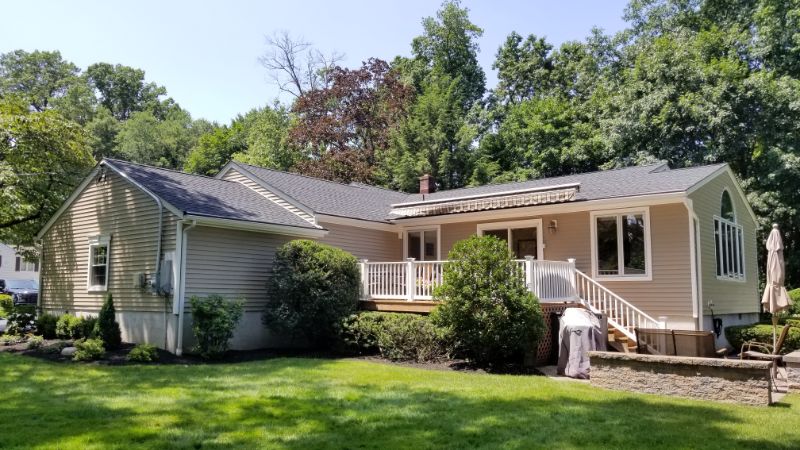 Vinyl Siding Selection Tip:  When you are looking at different Vinyl Siding manufacturers pay close attention to the thickness of the material.  Most siding ranges from .030 to .050 inches and the higher quality vinyl siding will almost always be over .040 inches.  Try to avoid vinyl siding under .040 inches!
How Much Does Vinyl Siding Installation Cost?
This is a very good question but the answer isn't so simple.  There are a number of variables that can affect the cost to have vinyl siding installed.  The size of your home, how many stories it is, how many windows and doors you have, the removal and disposal of the old siding, the actual vinyl siding material cost (which is always fluctuating), any difficult access issues, and more.
Another thing that can cause the cost of vinyl siding installation to go up could be repairing any existing damage that we find underneath the old siding.  It's common for older or poorly installed siding to leak which can lead to rotten or warped sheathing on the outside of your home.  If we need to remove and replace sheathing this can increase the cost of materials and labor.
For the typical family sized homes we work on in New City and Rockland County the price can vary between $7500 to $10,000 or more, depending on the factors we've mentioned above.  For an accurate and firm estimate we'd need to come and view your project, take accurate measurements, and discuss some material options and then we can put together a firm price for you.
Artisan Exteriors Inc will provide you a vinyl siding installation estimate based on the square footage of your home exterior and the overall scope of the project.  We can offer you several different vinyl siding material options within your price range.
All Our Vinyl Siding Projects Include:
Removal of your old siding and disposal
Thorough inspection of your exterior sheathing (repair any areas as needed)
Accurate measurements for a perfect fit around windows and doors
Caulking of any areas that require it
Installation of flashing wherever required
No trash will be left behind
We take excellent care of your property
Workmanship warranty (this can vary depending on the siding product used)
How Do You When Your Vinyl Siding Needs To Be Replaced?
Vinyl siding is a durable and long lasting material, but it doesn't last forever. Over time, vinyl siding can become faded, it can crack, or even warp.  It can be damaged by severe weather as well.  If you notice any of these signs, it's time to start thinking about replacing your vinyl siding.
If you're not sure whether or not it's time to replace your vinyl siding, there are a few things you can do to check. First, take a close look at the surface of the vinyl siding. If you see any cracks beginning to form, warping, large gaps around windows, doors, or dormers, or other visible damage, it's also time to start thinking about replacement and new vinyl siding installation.
Next, check the caulking around the edges of the vinyl siding. If the caulking is cracked or peeling, it's a sign that the vinyl siding isn't properly sealed and is at risk of leaking.  When your siding leaks it allows water inside of your building envelope which can result in rotten sheathing and in some cases even damage to their interior of your home or building.
Finally, take a look at the trim around the edges of your windows and doors. If the trim is cracked or damaged or you notice large gaps that water or rodents can enter, it's a sign that the vinyl siding hasn't been properly installed to begin with.
If you notice any of these signs, it's time to start thinking about replacing your vinyl siding.
How To Choose The Right Company For Your Vinyl Siding Installation?
There are a few things you need to keep in mind when choosing a vinyl siding installation company. First, you need to make sure that the company is licensed and insured. This will protect you in case of any damage or accidents during the installation process.
Next, you should ask for referrals who have had vinyl siding installed b the same company.  You can read through their reviews or you can also ask them for references.  This will give you a good idea of what to expect from the company.
You can read our reviews on Google here or our reviews on Home Advisor here.  We are very proud of our 5 star rating across hundreds of projects completed.
Finally, it's often suggested that you should get multiple quotes from vinyl siding installation companies.  We can't always beat other companies on price but we'll always beat them on value, product quality, workmanship, warranty, and our excellent customer experience.
Should you receive an estimate from another vinyl siding installation company that is lower or the same as ours we're happy to take a look for you and make sure you're comparing apples to apples with the products and actual installation.
Sometimes saving money on vinyl siding installation can come back to bite you later if there are corners being cut.
If you follow these tips, you should have no problem finding a vinyl siding installation company that you can trust.
Why Choose Artisan Exteriors Inc For Vinyl Siding Installation?
Vinyl siding is an important exterior decorating detail on your home, and helps protect the inner structure from the elements as well as improving your curb appeal with a nice, clean, uniform appearance.  One of the more common mistakes, or "time-savers" you'll see with other siding contractors is their lack of attention to the finer details of a siding job, like making sure ends meet up around windows, without visible gaps, proper trim installation, caulking where necessary, and ensuring the siding is correctly fastened.
If you need new siding for your home then give Artisan Exteriors Inc a call today and one of our siding replacement experts can setup an appointment with you to discuss your project, answer your questions, show you some samples and help you take the next step in making your home look better.
We realize that you've got many choices when it comes to choosing a vinyl siding installation contractor in our New York service area. We want you to know we understand and appreciate the commitment you are about to make to your home and we take it very seriously. When you choose Artisan Exteriors Inc you're choosing a partner in making your home a better place.
If you want to schedule an estimate for your vinyl siding project then please give us a call 845-350-2055 or fill out our online contact form and we'll get back to you right away.